Grace Bible Fellowship of Silicon Valley scrubs the internet of all negative reviews about their authoritarianism and spiritual abuse of church members. Negative reviews by former church members are repeatedly taken down. My negative YELP reviews (logical) have been taken down. Here is a good ruling from the 9th Circuit Court of Appeals that was just released today on 9/12/16. 
9th's Ruling is here: 14-35487
Businesses can't sue Yelp over bad reviews, 9th Cir. rules.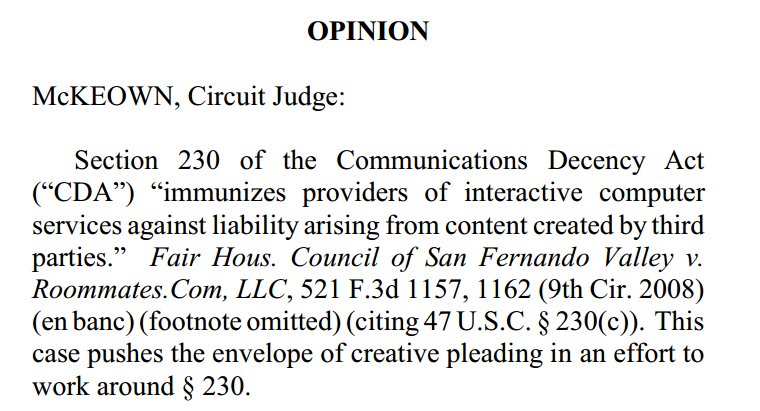 ********************
Here is my YELP review which was taken down, because GBF doesn't like the truth. [I have added some resource links to the review since it is now published on my blog.] Grace Bible Fellowship of Silicon Valley scrubs the internet of all negative reviews. From YELP to Google to Amazon* and anywhere else.(*Note: After writing a negative review on Amazon beneath Cliff McManis' book, and describing the abusive church he leads, the church had Amazon revoke ALL of my customer reviewing privileges, which I have given mostly 4-5 stars for other products, been a customer of Amazon's for years, and have ordered many products for myself and as gifts for other people. I wrote the CEO of Amazon, Jeff Bezos, about the problems with GBFSV, the excommunications and shunnings, the Megan's List sex offender. Jeff Bezos RESTORED my customer reviewing priviledges. And I just started this blog because I refuse to see that level of abuse that goes on at GBFSV, be subjected to it like they did to me, and turn around and be silent.)
"It was very disturbing to be a member of this church and to see the level of mistreatment shown by the GBF pastors/elders to adult Christians, an iron-fisted authoritarian control over adult Christians' lives and demands for 'obedience'.There were excommunications and shunnings ordered of dear Christians for any independent thought.
Grace Bible Fellowship of Silicon Valley is one of the growing number ofauthoritarian, NeoCalvinist churches spreading across the U.S. and it's not *Biblical*.
http://www.wadeburleson.org/2012/01/our-problem-is-authoritarianism-and-not.html
*Heavy Shepherding.  GBFpractices the 1970's heavy-Shepherding movement's un-Biblical control of Christians' lives by the pastors/elders. The Florida founders repented for its abuses and un-Biblicalness. The GBF leaders have not repented and the damage is growing in the lives at GBF.  GBF copies Mark Dever's (Capitol Hill Baptist, Washington, D.C.) 9Marks organization. It is a heavily criticized model, including by conservatives, who have said that there is only ONE Biblical mark of a healthy church: Love. The other 9Marks are un-Biblical and it's the Heavy Shepherding Movement all over again.
http://thewartburgwatch.com/2009/04/09/the-shepherding-movement-%E2%80%93-reformed-revamped-reee-diculous/
http://thewartburgwatch.com/2011/01/28/the-legacy-of-derek-prince/
*Membership Covenants. Members are told to sign them because they're *Biblical* and back to a Biblical basic. In point of fact they aren't Biblical and are used to exert authoritarian control over members' lives. Jesus required people to sign how many pages to follow Him? Correct answer: 0 pages. (Don't sign!)
http://www.wadeburleson.org/2015/05/five-reasons-to-say-no-to-church.html
https://timfall.wordpress.com/2015/05/27/covenant-with-god-not-church/
*Congregational vote.  GBF wants your money but doesn't believe in a true Biblical church honoring the Holy Spirit's work in Christians lives and giftedness.  It is more authoritarian control exerted by a few yes-men over the Body of Christ, hobbling the power of the Holy Spirit to truly work.  I will never go to a church again that is run like GBF. I will never give money to one again.
*Women. GBF pastors/elders promote Complementarian/Patriarchy doctrine that women are to "obey" and to "submit" and be 2nd class citizens. At GBF they live under the old Covenant and not the new one in Christ. GBF pastors espouse the Council on Biblical Manhood Womanhood which teaches a Semi-Arian Heresy by Bruce Ware and Wayne Grudem called the Eternal [a lie] Subordination of the Son to justify the subordination of women. It is untrue and is trinatarian heresy. GBF has put this man-made doctrine on par with The Gospel. If you reject Comp you reject The Gospel. Nonsense. Read: Wartburg Watch blog for more info. [Additional Note. 9/6/2016. Former church members who have a Complementarian marriage and are Calvinists pointed out to me today that despite their conservative views that they don't support the practices of the GBFSV pastors/elders and the mistreatment of the flock, that it has nothing to do with Comp or Calvinism but with these GBFSV pastors/elders choices to harm the flock. They have said that Cliff McManis is into other people 'obeying' and 'submitting' and his 'authority'. Chauvinism as well. That's not what this nice,conservative Christian couple believes or practices. Fair enough. Duly noted.]
http://www.wadeburleson.org/2008/09/growing-semi-arianism-in-sbc-and.html
http://thewartburgwatch.com/category/eternal-subordination/
http://thewartburgwatch.com/2016/06/03/a-reformed-theologian-and-a-reformed-blogger-take-on-the-eternal-subordination-of-the-son-as-it-relates-to-complementarianism/comment-page-1/
*Teaching. GBFSV does not permit Godly women to teach the Word of God. They base this on the writing of the Apostle Paul. Paul wrote Timothy about one woman — original text in Greek said "the woman" — teaching one man error. Paul wanted her to learn correctly first. The issue wasn't her being a woman, the issue was error – and that would be true if it was a man in error. Manipulative anti-woman Bible translators conveniently changed the text to something Paul never wrote to prohibit all Christian women for all time from teaching. Paul never wrote that.
http://www.wadeburleson.org/2012/09/the-woman-of-error-in-i-timothy-212.html
http://www.wadeburleson.org/2007/01/strange-belief-that-woman-cannot-teach_19.html
*Nouthetic Counseling.  GBF leaders believe that Bible is sufficient counsel for everything. They have no training and licensing, do not follow Cal. law, and frequently cross over the line into the Unauthorized Practice of Medicine (a crime in California that can be prosecuted as a misdemeanor or a felony).  This bogus form of non-counseling comes from the un-trained Jay Adams and his books. It is malpractice.  GBF pastors/elders did not get an older woman alcoholic to the care of a physician to supervise her treatment and spent months with members discussing "gossip" and drawing pictures on the blackboard.  In the end this woman, her adult children, and church members were harmed. [Note: According to the U.S. Department of Education the "college" where senior pastor Cliff McManis claims he earned his "Ph.D." from and another advanced degree IS a diploma mill (Faith Bible College) in Independence, Missouri. Its only "accrediting agency", not a bona fide one recognized by the U.S. Department of Education, was brought up on fraud charges by the Missouri Attorney General and banned from doing business in Missouri. The "accrediting agency" simply moved to near by Arkansas, renamed their business, and has done the same thing in Missouri again. I recently advised the Missouri Attorney General that the group was back in Missouri and to "go get them". A real Ph.D. from an accredited university takes about eight years of hard work to earn.]
https://cryingoutforjustice.com/2014/12/27/the-biblical-counseling-movement-a-series-by-april-kelsey-at-revolutionary-faith/
http://www.shouselaw.com/unauthorized-medicine.htmlhttp://www.shouselaw.com/unauthorized-medicine.html
Additionally, the GBFSV pastors/elders held me responsible for the genetically inherited brain disorder – Dyslexia – of a woman church member who refuses medical care.  She can't remember entire events and accuses other people like me of lying. Dyslexia isn't just a reading problem but a memory problem.
Excommunications/Shunnings/Stalking. A godly woman left GBF for a saner church and was harassed by church members on the orders of the GBF pastors/elders. A godly doctor was excommunicated for dissenting in private. I was excommunicated because the GBF pastors/elders blamed me for someone's memory problems. A bizarre church!!!
http://thewartburgwatch.com/2015/07/06/jonathan-leeman-and-9-marks-abusive-church-discipline-and-the-problem-with-matthew-18/
*Credentials. Snr pstr's *Ph.D*. is from a MO. diploma mill.
GETTING OUT: Don't tell them. Send a certified/return receipt letter & resign, no details. Call 911 and contact an attorney if they bother you. Read: Wartburg Watch blog for details.
DOMESTIC VIOLENCE: Women – call domestic violence shelters/support groups for help getting out. Call 9-1-1. Read: A Cry For Justice blog by pastor/cop.
https://cryingoutforjustice.com/contact-about-us/
Child Endangerment in California:
BOOK: Churches That Abuse, Dr. Ron Enroth (FREE online).
http://www.reveal.org/development/Churches_that_Abuse.pdfhttp://www.reveal.org/development/Churches_that_Abuse.pdf
Recovering From Churches that Abuse, Dr. Ron Enroth (FREE below). [Note: I started reading this book first and I read Dr. Enroth's other book second.]
http://www.reveal.org/development/Recovering_from_Churches_that_Abuse.pdf
SEARCH TERMS: Spiritual Abuse, Membership Covenants, Authoritarianism, NeoCalvinism, Homeschoolers Anonymous, Wartburg Watch, Spiritual Sounding Board,Steve Hassan. [See links on the Blog Roll on the right side of this page.]
Steve Hassan. Psychologist/author/Thought Reform expert: https://www.freedomofmind.com/Info/BITE/bitemodel.php
Brad/FuturistGuy (Christian blogger/researcher) article about Dr. Robert Jay Lifton, psychiatrist at Yale, former Air Force psychiatrist, researcher, studied Communist Chinese Thought Reform, which is also how other authoritarian groups work:
https://futuristguy.wordpress.com/2012/05/16/the-hunger-games-trilogy-5a/
**************************
I learned that I know more than I thought I did & I will never listen to authoritarian men again!"